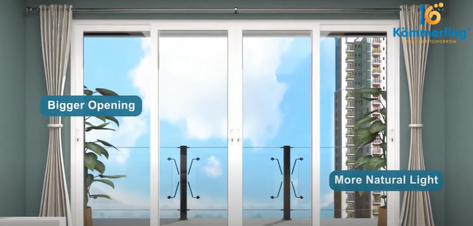 Whether it is the design, functionality, or budget, each uPVC window possesses a unique set of characteristics to fit the needs and match the décor of your home. While all 
uPVC sliding windows
 offer adequate ventilation for a cozy atmosphere without compromising on security or insulation, selecting between sliding windows and awning windows seems to be quite the task for an individual. Hence, one must be aware of their requirements as well as the pros and cons associated with them for making a sound decision.
Read On To Know More About Choosing Between uPVC Awning Windows And uPVC sliding windows.
What Are uPVC Awning Windows?
Commonly referred to as the crank windows, the uPVC awning windows are made for openings where the width is much greater as compared to the height. Unlike casement windows that are attached to the side of the window, the awning windows are fitted with hinges at the top. Generally operated with a crank, handle, or lever, such windows come with a wide variety of patterns and sizes. Efficient in creating an airtight seal when closed, awning windows are excellent for providing adequate ventilation and bringing natural light into the room.
What Are uPVC Sliding Windows?
One of the most efficient and flexible 
uPVC window
types available in the market, a sliding window is suitable for places with limited space. Installed with two smashes and rollers at the bottom, the windows can be easily operated by moving the glass panel horizontally across a track. Durable and sturdy, such windows glide smoothly along the frame in both directions to maintain a healthy flow of air. Available in single as well as double-slider options, sliding windows are easier to use as they are not fitted with any cranks or handles for operation. Suitable for wide openings, they are perfect for traditionally-styled houses providing an unobstructed outside view.
Also Read:  Why uPVC Windows And Doors Are The Best Eco-Friendly Choices
uPVC Awning Windows v/s uPVC Sliding Windows
Design And Ease Of Operation
Mounted with two sashes in tracks, the sliding windows are great for places without much vertical clearance but enough horizontal space. Easy to use by sliding the glass panel, such windows do not require any crank. Conversely, the uPVC awning windows comes with one sash hinged at the top of the window and can be opened outwards using a crank attached at the bottom. Do remember to ask your 
uPVC window suppliers
 about their functionality to avoid any confusion later.
While both 
uPVC windows are energy-saving
 and reduce unnecessary electricity expenses caused due to overuse of AC or heater, the uPVC awning windows are more energy-efficient as compared to sliding windows. Due to the use of a cranking mechanism in awning windows, they are much more efficient in creating an airtight seal that does not allow the outside weather to affect the room temperature in any way.
Excellent at preventing leaks, both the windows are a great choice to weatherproof your house. While the sliding windows are operated on a track, they provide good ventilation but are slightly less effective in providing weather resistance. On the other hand, the design of uPVC awning windows allows 100% weather resistance at all times whether it is rain, smog, snow, dust, or scorching sun outside.
Maintenance And Cost-Efficiency  
Providing similar visibility and thermal insulation, both the windows are available at the same price and can be cleaned with just a cloth. Available with a 
wide variety of colors
 and designs, the sliding windows require frequent cleaning of the tracks to wipe away dirt and dust. Then again, the awning windows are high maintenance due to the installed cranking mechanism and hence require more cleaning than the traditional windows.
Also Read: Home Decor – Sliding Upvc Windows And Doors For Home Improvement
While the upvc sliding windows might rattle during storms, they include a self-locking mechanism that plays a significant role in securing your premises. On the other hand, the uPVC awning windows come with a multi-point locking system and multiple security hooks, or friction hinges to protect your house against burglars as well as during extreme weather conditions.