Did you know that doors are one of the top energy consumers in homes? That's right! The energy efficiency of the door depends upon the way in which they're designed and the type of material they are made of. The material plays an important role in making a door energy efficient. The turning point for many homeowners is the realization of how much money they're wasting on energy bills. This is one of the main reasons why people decide to replace their doors. However, it's not as easy as it sounds. Even if you're replacing an old, drafty door with a proper, energy-efficient one, you need to take caution. There are some important things you need to know to get a professional installation without inconveniencing yourself or making your home look ugly. Well, there are a lot of ways that you can follow to make your home more energy efficient. One of the easiest ways to do this is to change the doors in your home with more efficient doors like uPVC sliding doors or casement doors to make your doors energy efficient.
Have You Ever Wondered Why uPVC Doors Are Less Energy Efficient? 
Most people don't realise that doors are one of the most significant contributors to air leakage in their homes. By sealing the gaps and cracks around your doors, you can reduce the need for furnace and air conditioning maintenance, and you can save a significant amount of money on your energy bills. Well, filling up gaps and cracks can cost you a significant amount of money and energy and there is no guarantee about the durability of the maintenance. So, a better option would be to install 
uPVC doors
 from Koemmerling.  These are professionally installed without gaps, by trained installers, which guarantees the durability for a long time. uPVC doors are known to be highly energy-efficient. They are extremely strong and durable and will not warp, crack, or rot over time in any weather conditions. You can choose from different styles to match the colour of your home and design.
Also Read: What Makes uPVC Windows an Energy-Efficient Choice
Different Types of uPVC Doors
Let's have a look at different of uPVC doors: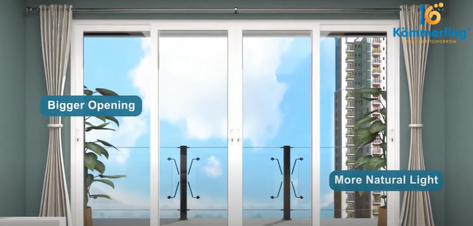 uPVC sliding doors
 have many benefits. They are energy-efficient, which means you will save money on your electricity bills. They are durable, space saving, provide wider opening and easy to use, provide a modern look to your house. They are much more durable than regular glass or wooden doors. The locks used in uPVC doors are of multiple points, making your home safer. Lastly, they can be installed without a lot of hassle, providing a modern and attractive look with a sufficient amount of light entering the house.
uPVC 
Casement doors
 are durable, energy efficient, water proof, dust proof, sound insulated  and stable, which means they are best for any room. You can have casement doors in your bedroom, bathroom, kitchen or any room. A uPVC casement door will last for a very long time as it requires minimal maintenance. With their multiple locking system, toughened glass and solid hinges, you can be sure that your door provides you with the right security.
If you are looking for a perfect door that is going to save you some space and provide you with energy efficiency, then try uPVC slide and fold doors. It is the perfect door for many people because it is very easy to use, secure and can be installed on the existing spaces. They can be installed in any part of your home, whether it is an entry to garden, living area etc.  They are can be used as partition and provide a wider opening.
Lift and Slide uPVC Doors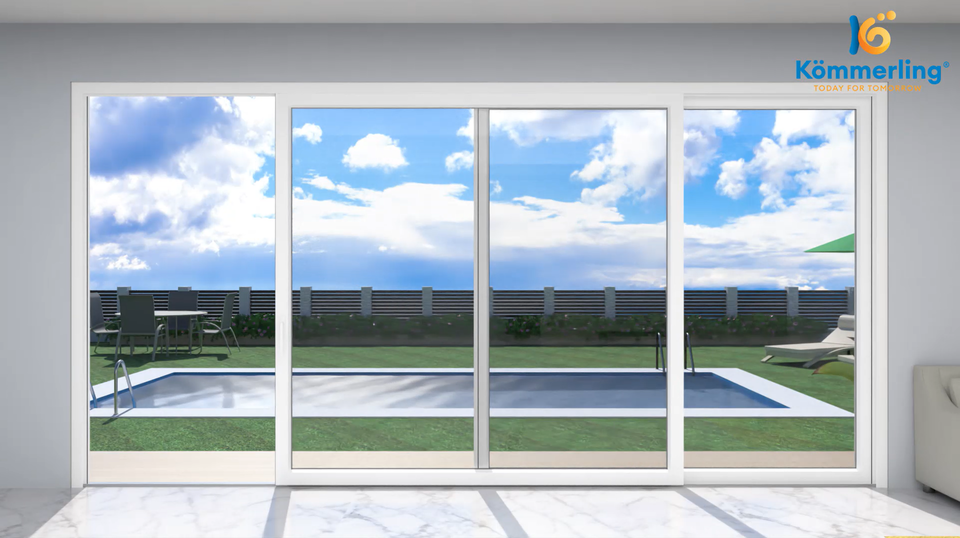 Lift and slide uPVC doors
 are perfect for bigger opening which gives a panoramic view to the outside. Lift Slide doors are easy to operate and available in a range of colours and finishes, making them ideal for any business, office, or home. They are the most advanced version of sliding doors that are mostly used to cover large openings like the entrance of a lawn or balcony of your house to provide a proper view of the outside and allow light to enter the house. Being modern and stylish, these doors are perfect examples of energy-efficient doors. Home is a place where you want to feel comfortable. If it is winters, you want a warm home. If it is summers, you want a cool indoor climate. uPVC doors help achieve the comfort level as they are designed to insulate the home. When you use Koemmerling, you are investing in German quality that will meet your requirements of an energy-efficient home. You also know that the brand will offer you a quality product that will last a long time.
Also Read: How uPVC Doors & Windows Benefit Modern Homes
Contact us now to know which energy-efficient doors and windows will suit your home or office.