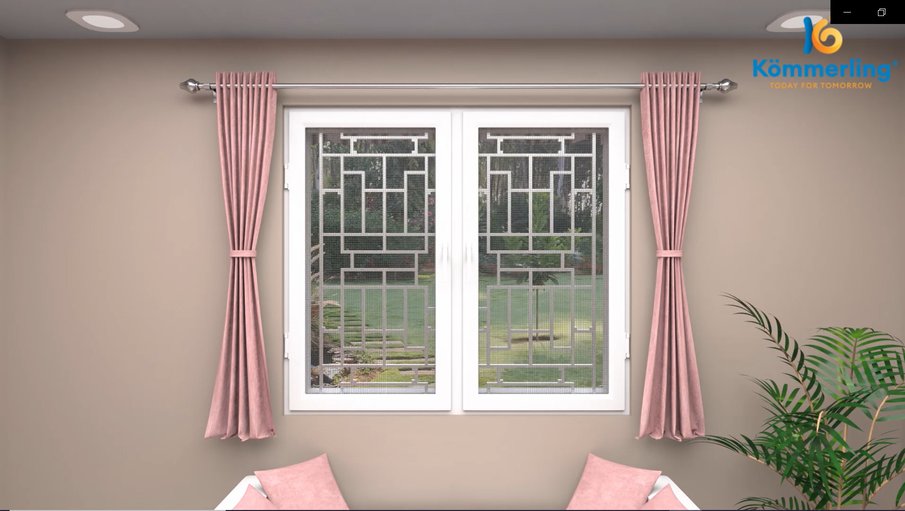 If you want to add extra layer of protection and aesthetics to your homes in style, a grill-mesh casement window system will be a perfect choice. Inbuilt Grill increases security; hence burglars won't find your house alluring for break in on the other side mesh protects you from unwanted insects enter your indoor when you want fresh air. Grills and mesh are two options adopted by homeowners to increase security and protection against insects. People usually get mesh and grill installed with their window as a separate ad-on partdue to unavailability of window unit having all such features. However, people are not aware about the newest available window system having inbuilt grill and mesh as a complete system. In this blog, we are discussing the grill-mesh system to help you make an informed decision for your home.
Why Mesh?
Mesh is an excellent way to protect your space from insects. It also prevents dropping off any object from inside especially when you have young children who are ready to explore and play.
Why Grill?
Grills help reinforce the safety of your house. It is always a difficult grill which reduces the chances of a break-in. Additionally, it prevents children from falling outside when playing. Koemmerling Grill Mesh Casement Window System offers all-around protection for homes. The System is a perfect burglar-proof window solution offering enhanced protection with a metal grill and mosquito net.
What is a Grill Mesh System?
A grill mesh system is a combination of the grill and mesh. Instead of only a grill or mesh, you will get both a metal grill and mosquito net together. Koemmerling grill-mesh system provides the following benefits: It is burglar-proof because of the steel grill Mosquito net keeps mosquitoes and insects away Multiple locking system Efficient Thermal Insulation Sound Proof Zero Water Penetration Frame comes with galvanised steel reinforcement Multiple Glazing Options Also Read Reasons That's Why People Choose uPVC Windows And Doors For Your Home
How to Find and Choose the Perfect Grill Mesh System for Your Home?
If you're looking for the perfect choice for your space, these tips can help you out:
Check for aesthetic appeal:
While enhancing the security of your home, it is necessary to check for aesthetic appeal. The grill-mesh casement window system will provide the perfect aesthetic appeal to all homes. Whether you have a traditional Indian home or a modern home, the system will go well with both.
Keeps a safe interior:
The mesh prevents mosquitoes and insects from entering the inner space. On the other hand, the grill provides protection from burglars and thieves. You have to decide which part of your required grill-mesh system. For example, these are perfect for bedroom or kitchen windows opening into the balcony.
Fits the Budget:
Setting a budget before looking at different grill mesh casement window systems will help keep things in perspective. However, be flexible, as investing in a home is usually long-term. Grill-mesh systems are cost-effective solutions that fit within most budgets. Do remember that cost is generally calculated per square foot. The final price will depend on the size of the window.
Get the Brand:
Koemmerling is a German brand known for its commitment to precision and perfection. We deal with premium quality products for homes and offices. When you choose windows, explore our range of products to maintain symmetry and design. We are also a leading brand for high-quality uPVC doors in India.
Customise to Size and Type:
Before you finalise the grill-mesh casement window system, get in touch with the brand's representative. Discuss your requirement in detail. The representative may suggest a visit – let them take the measurements as it will provide higher accuracy. They will also guide you about the different design and types of window grill and mesh best suited to your home or office. Do not hesitate to ask questions and get all the information you want before ordering the grill-mesh casement window system.
Conclusion
Keep the above pointers in mind when looking for a grill and mesh window system for your home. The grill-mesh system suits all window requirement and will suit different design elements. Don't be afraid to ask questions. Make it a point to gather the required information before you decide. With Koemmerling, you can rest assured of the quality. We are one of the most trusted and recognised brands of uPVC windows and doors in India. Also Read: Which uPVC window design to choose to improve your home Post navigation Previous